April's British Comedy Guide Big Comedy Conference will be hosting a number of panels around the craft of writing sitcom and comedy drama. Here are some pointers to help you decide the kind of script you'll want to develop.
Want to write narrative comedy? Then go ahead.
There you are. Shortest blog ever.
Hang on though. What's your favourite scripted comedy programme at the moment? Not Going Out? Everyone Else Burns? Inside No. 9? 
How about Death in Paradise? Call The Midwife? Or even Happy Valley? Yes, that Happy Valley? There are some great comic scenes squeezed between the violence and unrelenting grimness.
Suddenly the desire to write TV comedy is not so straightforward. You want to write a show about a larger-than-life woman in her 30s. She talks directly to the audience and her attempts to sort out her life always end in disaster. Which are you more likely to come up with Fleabag or Miranda?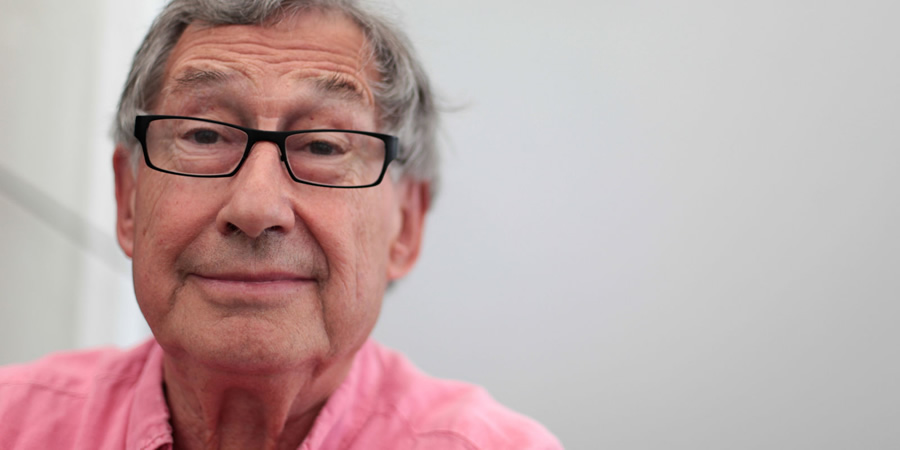 Some writers are brilliant at everything. The wonderful David Nobbs turned his Reggie Perrin novels into magnificent studio sitcoms. He wrote non-audience sitcom (Fairly Secret Army), radio sitcom (The Maltby Collection) and comedy drama (A Bit of a Do). Not forgetting where he started his career, writing gags for Frankie Howerd and sketches for Les Dawson and The Two Ronnies. 
Most of us are good at one or two things. Even Happy Valley writer Sally Wainwright, unarguably our greatest living TV writer, has never turned her hand to sitcom or novels. What about you?
It's hard to know when you're starting out, which is the best form for your idea. But here's a possible measure.
Welcome to Dave's Spectrum of Comedy Writing.
I can't begin to tell you what kind of comedy writer you are – 39 years into my own career I still haven't worked out the exact answer to that. All I can do is look at what's out there and help you decide the direction you think you'd like to take.
Whatever your personal tastes there's usually a type of show that is more likely to suit your style. Placing all the shows on a single line may help you work out your own.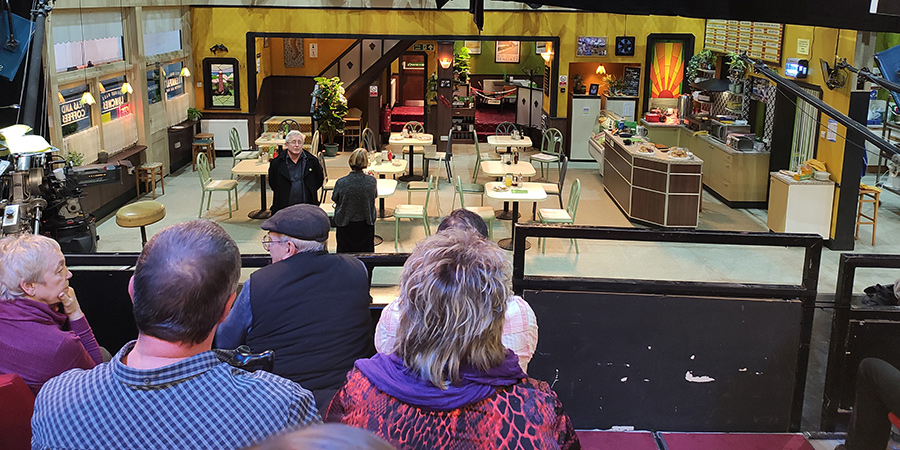 Our journey begins at one end with The Studio Audience Sitcom.
I think this is the purest form of comedy. Your number one priority is jokes. There have to be loads of them, five or six a minute, and they have to be of the laugh-out-loud variety.
Gentle smiles and nods of agreement aren't enough here. The show is filmed in front of around 300 people and if these people are not laughing – a lot – then the atmosphere in the room will plummet below zero and the show will probably stink. And sink.
Characters matter, and careful plotting lifts your show from good to great. But nothing is more important than laughs, big laughs that have you clutching your sides.
Audience sitcom is probably the hardest show to get right, which was why the TV companies used to make so many. Just like the movies, you need to create many flops to ensure one hit. For every Only Fools And Horses in the 1980s there were a dozen Goodbye Mr Kents (look it up).
Now every new audience sitcom feels like it's a stand-alone news item. Where you'd get ten in a normal year even as late as the 1990s, to my knowledge there's been one on ITV so far this decade – Kate & Koji. Which ran for two series on ITV, and that was it.
Why am I even mentioning this? They may be unfashionable, most people under 20 can't abide the staged artificiality and the weird audience laughter in the background, but millions still love them.
We still re-watch old episodes of Friends and Frasier, Father Ted and Only Fools and One Foot, Blackadder and Ab Fab. Audience figures remain healthy for the BBC's long-running regulars Not Going Out, Mrs Brown's Boys and Upstart Crow. 
Commissioners insist they still want to make them. And almost no one wants to write them. If you love the form, and you love packing your script with jokes, then why not try it? Apart from anything else your script will stand out in competitions. We received around 900 for our Hat Trick competition last year and I doubt if the number of audience scripts made it to double figures.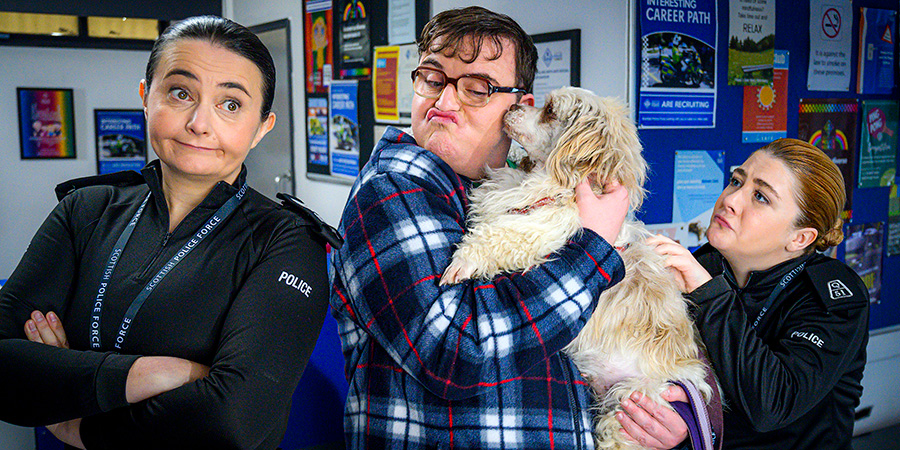 Which brings me to the next type of show, the Non-Audience Sitcom.
These shows currently dominate the TV schedules, which explains the above statistic. Everybody wants to write these. Sitcoms like Ghosts, Modern Family, Bad Education, Scot Squad. We still want jokes, and we get them, lots and lots of jokes. Lack of studio audience doesn't give you an excuse to cut back on gags.
Characters and stories matter as well: a parade of regular cast members, who mess up every week as a result of the bad choices they make. But there's something more here – the world, which looks a bit artificial under the harsh studio lights, is more realistic. It's not a massive change but it takes us one step away from watching a big loud show and into a subtler place. And you have permission to write gentler laughs here.
These shows look more like the movies, and that's what we go to the movies for isn't it? To be moved.
However, the above shows share one crucial element with the audience sitcom – the overall premise barely moves, and the characters remain the same. No one learns from their mistakes.
This is all me thinking out loud, by the way. No one has attempted anything like this before as far as I'm aware, so I'm feeling my way along this spectrum.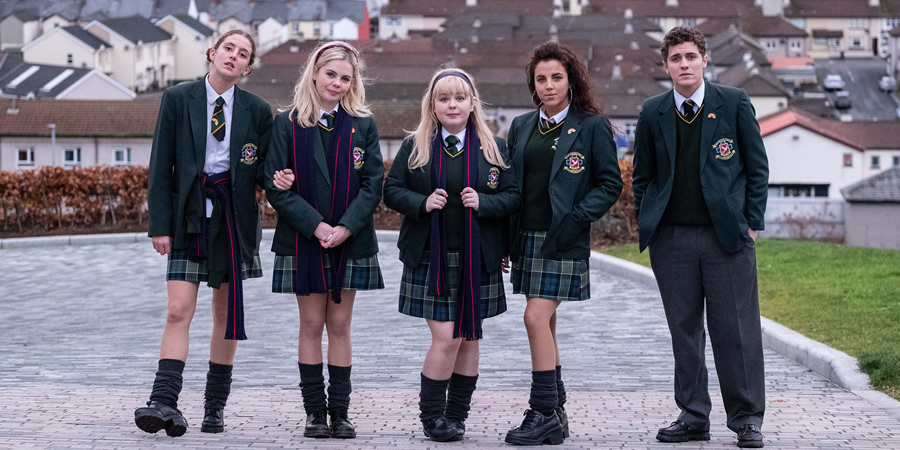 This is the point at which I make a subtle distinction. Next along my line is the Non-Audience Narrative Sitcom.
Again, we're still looking at a very high gag rate. Brooklyn 99, Code 404, Parks And Rec, Derry Girls. Now there's a story arc.
Jake Peralta is as puerile and loyal at the start of each series as he is 22 episodes later. But he might find himself at the end of the season sent away from Brooklyn 99 for his own safety. Or in a relationship with Santiago. Or moving in with her. He has, I'm afraid to say, grown. Not much. But enough so that you could say that the character who appeared in the pilot episode would not be mature enough to be the boyfriend and husband of later series.
What's next? Even this far along the line, we're still managing to ensure that every episode is self-contained. You can watch the series in any order. But now we're at something I've christened Sitcom Drama, which feels like uncharted territory.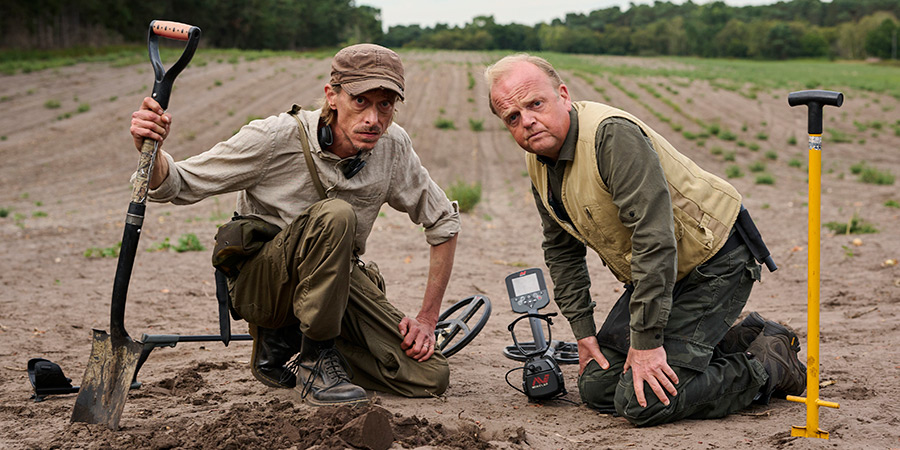 Fleabag, Am I Being Unreasonable, Detectorists. For the first time along the spectrum, you might be looking to sacrifice jokes if you feel they get in the way of the story. These shows still have them, for sure. But they're not the number one priority. These are the shows that TV critics love, so that they can get to say: "the best comedy shows don't need jokes."
That sentence was always guaranteed to raise my hackles but I get it now. Comedy is a spectrum – and it also follows loads of rules of drama. Characters start in a world they wish to leave. They want to change, and they fail due to the flaws in their character.
It's as true for Miranda as it is for Fleabag. How can two shows be so similar – dysfunctional 30-something posh woman with family and social communication issues talks direct to camera – and so different? It's the spectrum, innit.
You can watch Miranda in almost any order, but Fleabag's six episodes in each series play out like a three-hour movie. Start watching at Episode 3 and you'll wonder what on earth is going on.
We wave goodbye to the word sitcom, and step across an imaginary central line into the world of seasons, story arcs and supersize budgets. Welcome to the land of Comedy Drama, where stories matter most, and jokes are a bonus for which we give merciful thanks.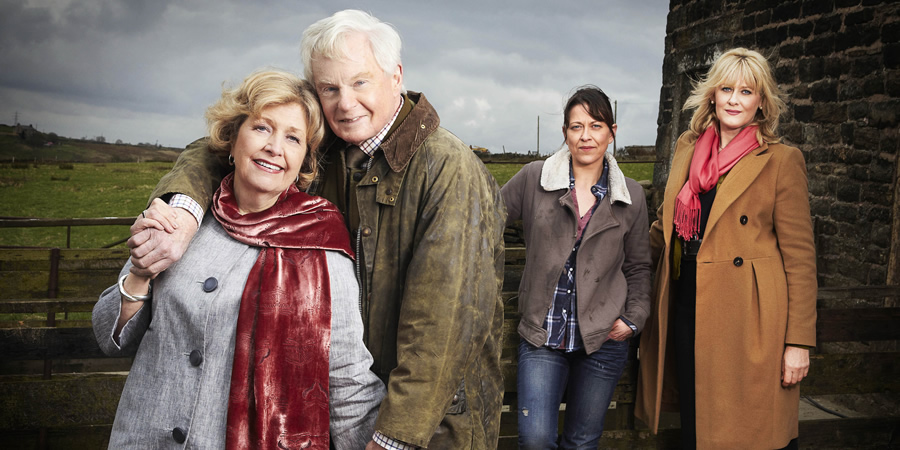 In the capable hands of Sally Wainwright (again), you're never too far from proper big funny jokes, and Last Tango In Halifax is one of the finest examples of the form. There's a big strong story at the heart and a stellar cast.
And I don't know why this is but the best comedy dramas, in my totally biased opinion, are northern. As were and are the greatest writers. Alan Plater's Biederbecke Tapes, Paul Abbott's Shameless and Clocking Off, Wainwright's At Home With The Braithwaites, Clement & La Frenais' Auf Wiedersehen Pet. I think it's in our genes.
Stepping a little further along the line we come across the Cosy Murder Mystery. What's cosy about murder? I don't know, but this is such a massively popular form, and if you love it as much as the millions who read the Osman books and watch the endless Columbo reruns you might consider writing one. Columbo and Miss Marple were the early American versions, although their DNA can be found in the novels of Dorothy L Sayers and Agatha Christie.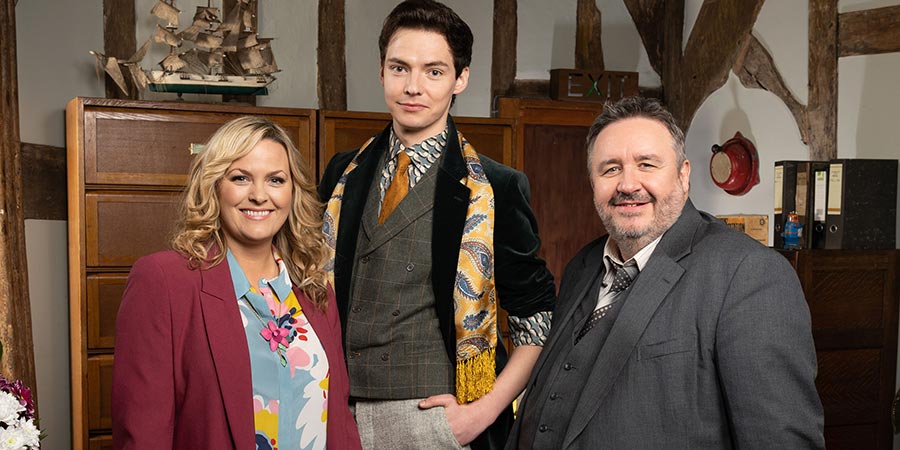 Death In Paradise, Shakespeare & Hathaway, New Tricks, Father Brown – it's no surprise that comedy writers often get to write for these shows. If you're not going for gritty police procedural drama you want some levity along the way.
We're also back in the land of the self-contained episode. What learning takes place among the characters is usually confined to the discovery of the perpetrator of the crime.
In the same way that I came up with a new-sounding subset with Sitcom Drama, next is something I define as Drama with Comedy.
A show like Call The Midwife is always going to be focused on the drama of birth and the death that often came at the same time. I remember working on a sitcom script late one night while my wife and daughter were watching an episode of Call The Midwife  in the room next to me. I'd be settling into some hefty joke writing but every five minutes I'd hear a blood-curdling scream from the living room.
Like the murder mysteries, every episode is self-contained. Comedy here plays as light relief against the relentless misery. Like with the best soaps (northern again, I would argue), adversity is balanced by the presence of a stoic humour. Despite its series arc narrative Happy Valley sneaks in here. But if that's the kind of show you want to write perhaps you're better suited to visiting the BDG's Big Drama Conference, if that exists.
I'm going to place Costume Drama here now. The old staples of BBC classics are more or less rooted in the triumvirate of our Great British Writers: Shakespeare, Austen and Dickens. If you think you can find a new way of adapting the canon that plays to their comedic strength (as Simon Blackwell did with his Young David Copperfield movie), well good luck to you.
Bridgerton has shaken up the form and brought a different approach of humour and diversity. Plundering historical fiction for laughs and lust without having to concoct another version of Pride And Prejudice may well have become a new direction for starting out writers.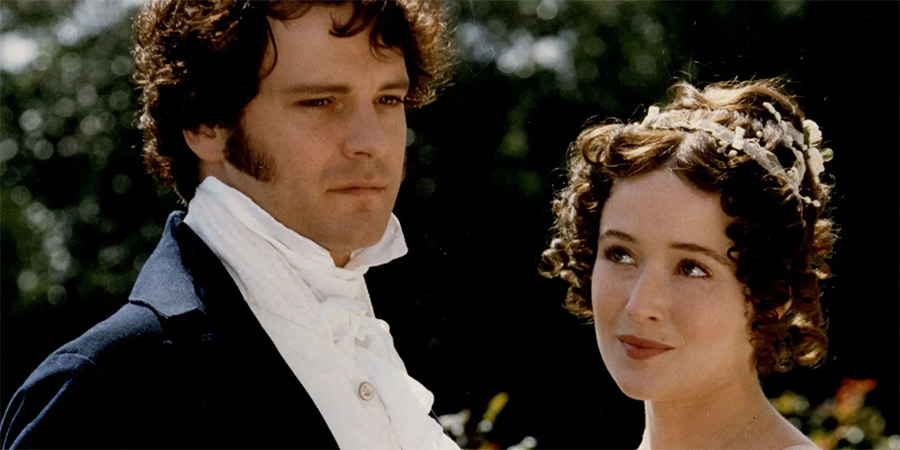 There are a number of shows that live below this line, and aren't so easy to place on a spectrum. Kids' TV is the home of some excellent drama and comedy. The Dumping Ground is in fact The Training Ground for new writers. Not frequent enough to be called a soap, but 200 plus episodes in the show qualifies as a long running drama like Holby City or Casualty. But unlike them you're expected to bring some humour to your script.
Animation is difficult to place on the spectrum. I'd probably put Dennis The Menace and Family Guy closest to non-audience sitcom, while Danger Mouse is maybe nearer to non-audience narrative.
There are comic radio shows across the spectrum. Audience shows are an easier sell on the radio, they're not prohibitively more expensive than non-audience and we don't seem to mind the presence of audience laughter when we can't see the performers. If audience is your bag you might want to build towards TV by trying to write one for radio.
Soaps were the other traditional training ground for new writers, although I'm not sure that still holds. If you love the form and believe you can bring light relief to the drudgery and doom of everyday Weatherfield or Walford you should consider investigating the possibilities of developing ideas for these.
Finally, you might not know what you're writing until you're halfway through the first draft of your script. You thought it was a sitcom but the story is exciting you more, and it turns out it might be a movie.
This is one of the hazards of writing that afflicts everyone, regardless of ability and reputation. The only way to find out what you want to write is to look at that blank page, on screen or on paper, and start filling it.
---
More details on the Big Comedy Conference
Tickets are also available for Dave's Sun-DIY event at a special low price if you sign up for the conference.
Dave's latest book is The Complete Comedy Writer
For more information about the Sun-DIY Event, sign up for Dave's fortnightly newsletter and a free copy of Build A Script: davecohen.org.uk
Listen to the latest episode of Sitcom Geeks
Comedy Drama? Drama with Comedy? You decide: Dave's first novel: Stand Up, Barry Goldman